Submit resume' to Fares@westbicycles.com , Subject: Employment
Printable Employment Form
Experience required. We are always looking for Exceptional People.
Salesperson / Enthusiast Hourly plus commission
Passonate about Cycling? Our most successful employees enjoy building lasting relationships with customers by contacting them for rides or to follow up on purchases, suggest new merchandise, and remind them of upcoming events. They aim to exceed customer expectations. Successful candidates are honest, competent, courteous and respectful; Demonstrate effective communication skills and are involved in the community. Demonstrate the capacity to perform bicycle assembly and repair, product assembly, customer service, merchandising, placing customer orders and receiving.
Bicycle assembler / mechanic Hourly plus commission
If you are passionate about bikes and would like to work in a close knit environment with other biking enthusiasts then this is the job for you. The primary function of this position is to repair and assemble bikes, assemble other bike products, answer customer questions on various bike topics / support the sales staff. The ideal candidate will be articulate, have knowledge of bicycle mechanics, and be organized and responsible for your keeping your work area neat. Demonstrate integrity, competence, courtesy and efficiency.
-
-
-
-
-
-
-
-
-
-
-
-
-
-
-
-
-
-

Guide to Winter Bike Clothes
DECEMBER 26 POSTING
Holiday Store hours
Thursday 12 / 31 / 2009 Friday 1 / 1 / 2010 Saturday 1 / 2 / 2010
New Years Eve 10-5 New Years Day 11-Noon 9:30-5
"NEW YEARS DAY BIKE RIDE"
Friday January 1, 2010 Coffee 11:00 Depart NOON 32 to 60 mile options


"HOT WINTER SOLSTICE BIKE RIDE" Rescheduled till January 23, 2010
---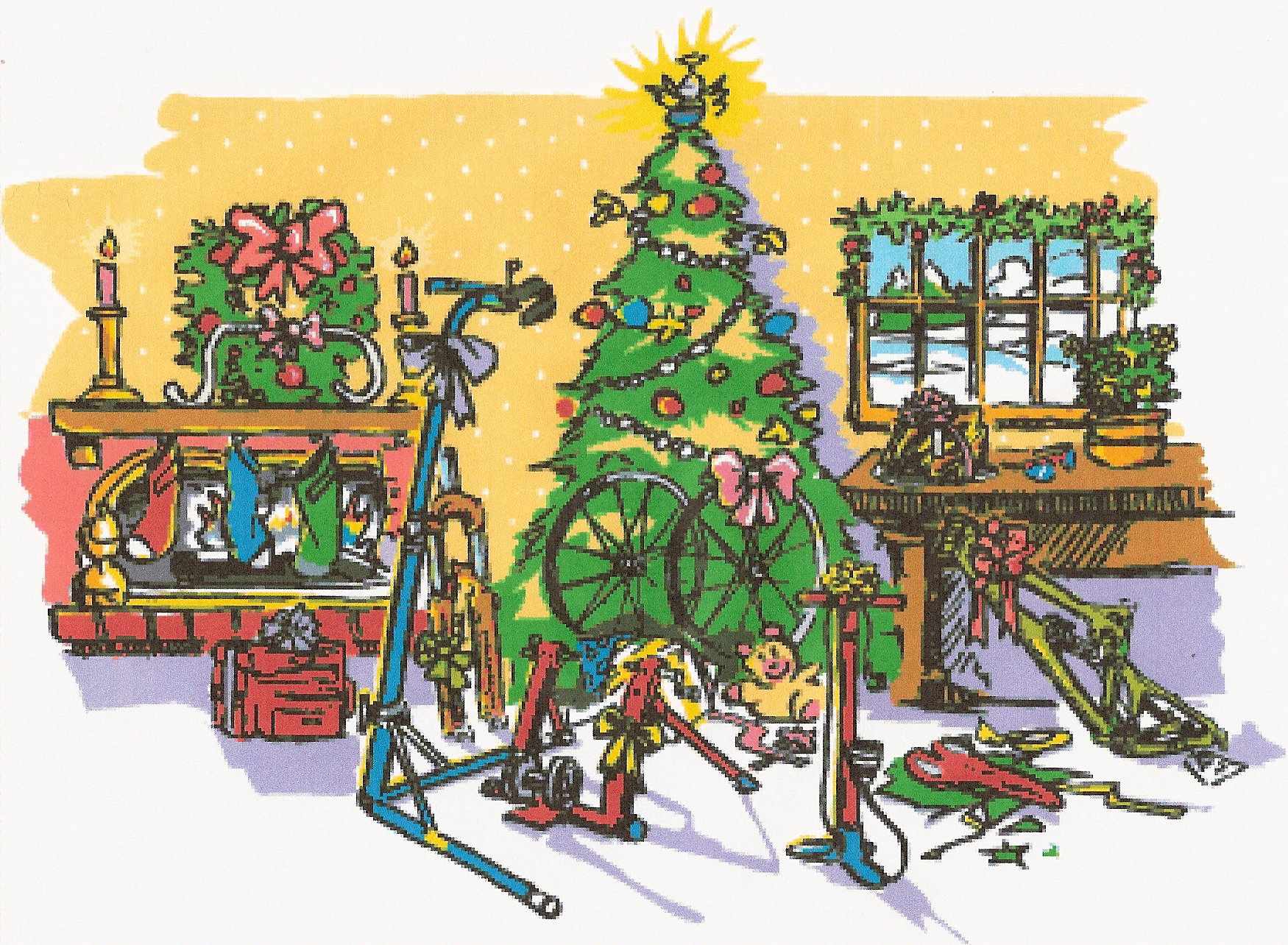 Use your Gift Card this week!

Racking your brain to come up with great holiday gift ideas?
We can help you choose from hundreds of gifts you'll find at West
Bicycles. Let our friendly and experienced cycling staff help you
find the perfect gifts for eveyone on your list.
Check out the "NEW COOL STUFF" link
ALL BIKES ON SALE

- Kids Bikes – Comfort Bikes – Mountain Bikes – Road Bikes – Custom Bikes -

- Indoor Trainers – All weather clothes and gear – Bicycle Computers –
- Cure for cold hands and feet – Gift Cards – Helmets – Custom Wheelsets -
- Books: "Time Crunched Cyclist" by Chris Carmichael (Lance's Trainer)
"Bicycling Routes", and "Off Road Trails" by locals Elle Colquit and Jon Livengood
"Senior Sport Adventures" by local Verne Gilbert, MD
---
Each person is different and there is no perfect solution to cool weather dressing, but
this list of recommendations for temperature ranges is a good place to start.
- 65-60 Arm warmers
- 60-55 Arm warmers, knee warmers
- 55-50 Arm warmers or long sleeve jersey, vest, long finger gloves (light weight), ear muffs, knee or leg warmers
- 50-45 Long sleeve jersey with either a base layer top or a light jacket/vest, long finger gloves (medium weight),
ear muffs or skull cap, toe covers, leg warmers or light weight running tights.
- 45-40 Base layer top with a long sleeve jersey and a light jacket, Gloves(heavy), shoe covers, pants (medium
weight), Ear muffs or skull cap/balaclava
- 40-32 Base layer top with a long sleeve jersey and a jacket, Gloves(heavy), shoe covers, pants (medium weight),
Ear muffs and/or balaclava
- 32-22 Still can ride starting with a base layer bottoms and pants with a wind resistant front paneling, wool socks,
neoprene shoe covers, Base layer top, with jersey and coat. Heavy gloves, Balaclava and ear muffs.
- 22-0 Good day for the trainer and performing maintenance on equipment.